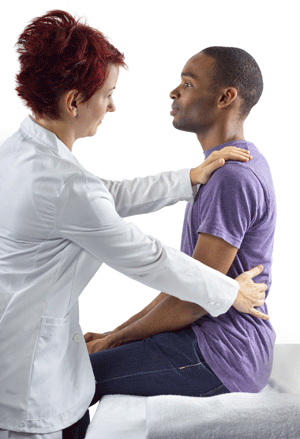 Treating patients based on their risk of persistent back pain led to a 50% reduction in lost work time in a new study.
Researchers found that identifying whether patients had a "high", "medium", or "low" risk of ongoing pain, and then tailoring treatment based on that stratification, significantly improved treatment outcomes. Not only were work absences halved,  patients receiving stratified care had greater reductions in pain and disability compared to patients in the usual care group.  They also had modest reductions in healthcare costs.
The study from the Annals of Family Medicine, recruited 922 patients who visited their primary care doctor for back pain. One group of patients received usual care and physical therapy for six months. The other group received treatment according to their predicted risk of chronic low back pain.
The low-risk patients were treated with usual care and advice on self-management techniques. The medium-risk patients received usual care and physical therapy aimed at decreasing pain and disability, while improving self-management skills. The high-risk group received usual care with physical therapy and simple cognitive behavioral therapy techniques.  This stratified treatment resulted in measurable improvements in back pain compared to what is typically offered at a physician's clinic.
Back pain can be a temperamental, challenging condition to tame, and clinicians aren't always sure why some patients heal quickly while others continue to suffer from ongoing pain, despite similar treatments. Not surprisingly those with chronic back pain can be easily discouraged, and resign themselves to a life of pain.
This research offers hope to those patients, suggesting that a new approach to treatment can improve their likelihood of recovery. Tailoring back-pain treatments based on patient individual characteristics and risk of chronic pain is something many chiropractors routinely do. Studies show that chiropractic care performs better than usual care for preventing recurring disability due to back pain, thereby enabling patients to return to work sooner.
Reference
Foster, NE, et al. Effect of stratified care for low back pain in family practice (IMPaCT Back): A prospective population-based sequential comparison. Annals of Family Medicine 2014; doi: 10.1370/afm.1625.