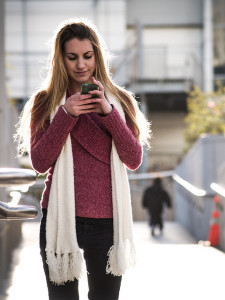 We all know we should probably pack more vegetables into our diets but with busy schedules and the temptations of junk food, forgoing the greens is an unfortunately common reality. This of course is an age-old problem for chiropractors and other health professionals trying motivate patients to engage in preventive health measures.
To try to fix this conundrum, researchers turned to something most of us already glued to anyway: smartphones. A study from the Archives of Internal Medicine included 204 adults with low activity levels and diets low in vegetables and high in saturated fat. Participants used mobile devices to connect with health coaches and log their daily food intake and activity levels. This drastically improved patients' overall diet and activity scores, but researchers wanted to see whether clients could continue these positive behaviors independently.
So after three weeks of treatment and coaching, patients were told they no longer had to meet the requirements for physical activity and vegetable intake but were given financial incentives to continue logging. Although their initial improvements dropped slightly, they still showed improved activity and diet scores five months after the initial intervention.
The scientists also wanted to see what would have the greatest impact: telling patients to exercise more/sit less or telling patients to focus on nutrition? They divided the participants into four groups that were each told to do one of the following treatments: decrease sedentary time and consume more vegetables,  increase physical activity and get more vegetables, reduce fat and sedentary time, or decrease fat and increase physical activity.  Despite that all of these treatments seem to overlap, the patients in the group that were told to cut back on the couch time and boost produce intake had the best improvements. Researchers suggested that this intervention could maximize healthy lifestyle choices compared to other interventions.
"This study demonstrates the feasibility of changing multiple unhealthy diet and activity behaviors simultaneously, efficiently, and with minimal face-to-face contact by using mobile technology, remote coaching, and incentives," the researchers concluded.
Even if you can't  be in a fancy research study like this, you can get one-on-one health coaching by contacting your chiropractor.  He or she can recommend effective smartphone apps and other tools to get you munchin' more greens and hitting the gym in no time. In fact, recent research suggests that chiropractors can actually play a role in supporting weight loss. 
 Photo by Michele Ursino
References
Fiore, Kristina. Eat More Veggies? There's an App for That. Medpage Today. May 30,2012. Accessed June 4, 2012. https://www.medpagetoday.com/PrimaryCare/DietNutrition/32989.
Spring B, Schneider K,  McFadden H, et al. Multiple behavior changes in diet and activity: a randomized controlled trial using mobile technology behavior changes in diet and activity. Archives Internal Medicine 2012;172(10):789-796.  doi:10.1001/archinternmed.2012.1044.