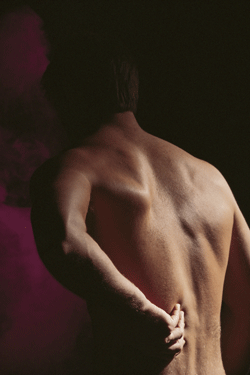 It's estimated that between 15-61% of patients continue to suffer from back pain after spinal surgery, and nearly two-thirds of all chronic pain patients suffer from failed back surgery syndrome. While many of these patients are encouraged to have revision surgery, a growing body of research suggests that chiropractic care can improve symptoms without the risks and costs of another operation. A recent case report published in the Journal of Chiropractic Medicine outlined three successful cases.
Case 1
A 31-year-old man had experienced initial relief after undergoing surgical spinal decompression and laminectomy disc herniation 2.5 years earlier. However, his symptoms of lower back pain and leg pain resurfaced while he was lifting firewood. The patient received flexion-distraction mobilization and an at-home exercise program. After four weeks of treatment, his pain dropped from a 6 out of 10 at best to a 4 out of 10 at best. Although he continued to have numbness on his left leg and foot, and nerve tension while straightening his leg, the patient's lumbar range of motion had improved and his leg symptoms had decreased.
Case 2
A 47-year-old man suffering from pain in the upper back and neck experienced a deep, throbbing ache that impeded his ability to work and engage in daily activities. The man had previously been treated with trigger point injections, painkillers, and surgery. He was treated with high-velocity, low-amplitude (HVLA) adjustments and myofascial release. The patient had improved cervical spine range of motion and ability to complete activities of daily living. Since his initial treatment three years later, the patient periodically experienced an exacerbation in symptoms, which are relieved by 2-3 chiropractic adjustments.
Case 3
A 60-year-old man presented at a chiropractic clinic with low back pain and right lower extremity symptoms. The man had received a L3-5 laminectomy 27 years after experiencing disc herniation. Since then, he continued to experience periodic flare ups in pain that prevented him from sitting for more than 15 minutes, driving long distances, or walking for more than 100 yards. He rated his pain as 7 out of 10 at best and 10 out of 10 at worst. A chiropractor treated the patient with side-lying HVLA chiropractic adjustments and flexion-distraction mobilization. After five weeks of treatment, the man had minimally decreased pain but significant functional improvements. He was able to drive for 600 miles without an exacerbation in symptoms and reported satisfaction with treatment.
Chiropractic for Failed Back Pain Surgery Syndrome
Earlier studies have shown that spinal mobilization and manipulation are effective for back and neck pain, but most clinical trials fail to include patients suffering from post-operative spinal pain. These case studies show how chiropractic care can improve function and reduce symptoms in patients suffering from ongoing symptoms after spinal surgery.
Reference
Coulis, CM and Lisi AL. Chiropractic management of postoperative spine pain: a report of 3 cases. Journal of Chiropractic Medicine 2013. 12:168–175.