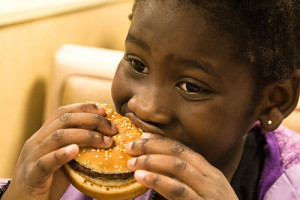 Busy holiday schedules may make parents more likely to stop at Wendy's or McDonald's for a quick bite to eat, but that practice may come at a cost for you or your children. Eating fast foods on a regular basis, even just once a week, may increase your risk of weight gain, obesity, and obesity-related illnesses like diabetes and stroke.
Unfortunately a new study from UCLA shows that 60% of young kids are eating fast foods at least once a week. The percentage was even higher for Latino kids, with 7 out of 10 kids consuming fast foods at least once a week.
Overall, 29% of young children are eating fast foods two or more times per week and 10% are eating fast foods three or more times a week. At the same time, only 57% of children are eating at least five servings of fruits and vegetables a day. While the study did find that kids are drinking less sugary beverages and sodas, the benefits of this may be outweighed by an increase in the consumption of fast foods.
"A weekly happy meal is an unhappy solution, especially for toddlers,"  said the  study's lead author from the Public Health Institute, Susan Holtby. "Hard-working, busy parents need support to make healthy food selections for their kids."
With a little planning you can resist the urge to pull over to eat fast foods. Always stock healthy snacks like dried fruits and nuts in your car or back pack, to prevent yourself from feeling famished if you're out for long hours. Schedule some time over the weekend to cook large batches of a meal so you can have leftovers throughout the week.  If you do find you need to pull over to get some foods while you're out holiday shopping for long hours, try jetting into a grocery store to pick up some fruit or protein bars to tie you over until you get home.  Your chiropractor can assist you in building a balanced diet and exercise routine to reduce stress and prevent weight gain and flare-ups in chronic pain during the holidays.
Photo by Steven Depolo
Reference
 Holtby Susan, et al. Majority of young children in California eat fast food regular but drink less soda. UCLA Center for Health Policy Research. https://healthpolicy.ucla.edu/publications/Documents/PDF/fastfoodbrief-nov2013.pdf